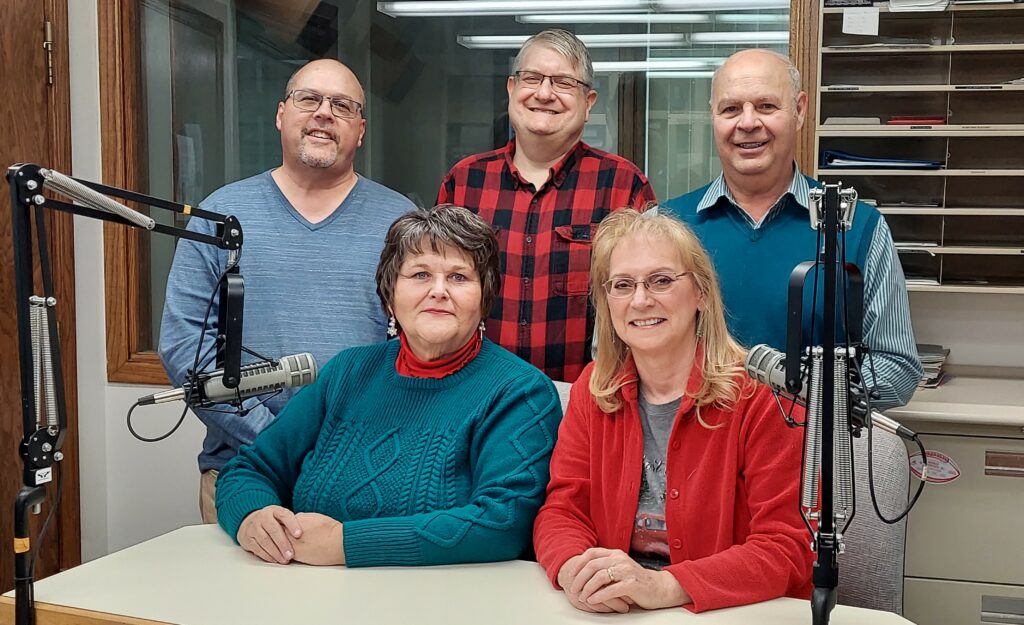 The KJLT/KJTF Radio Staff!
In recent years I have seen God work in a big way through the ministry of KJLT/KJTF. Our new and much needed transmitter is now in its third year of service and operated trouble free! That was phase one of our three phase project. No more into the night repairs! Our new 10 bay FM antenna is performing well and radiates our 100,000 watt signal to your radio. The new antenna is nearly 100 feet long on our 700 foot tower. This was phase two of our project.
Phase three our project has been to broadcast our 94.9 FM station in HD. The new transmitter has provided that opportunity. We began broadcasting HD last October. That means those with HD capable receivers are able to enjoy our programming in crystal clear near CD quality. KJTF is part of that 94.9 signal known as HD2. These are all projects that so many of you have had a part in financially. Thank you!
Perhaps you remember that I shared KJLT 970 AM could someday be broadcast as part of our HD signal and would be known as HD3. That means those with HD receivers would be able to hear our AM programming 24/7 on that 94.9 FM signal. This would take full advantage of our HD programming capability today.
Broadcasting our 970 AM station as HD3 has some unique challenges. Programming from our studios to the transmitters is done by radio links at a near microwave frequency. At present our studio equipment does not have the bandwidth to accomplish that. The needed bandwidth is available through a radio link many times higher in frequency. Research and a path study is part of the process to purchase and obtain a license to do that. There is also separate sound processing equipment involved and special antennas that will get that signal from our studio to our transmitter site. Projected cost for this project is $33,200.
Those with HD capable receivers will enjoy this newer technology. I believe this is a wonderful tool that will put KJLT/KJTF on the cutting edge of technology available today. I have had reports from listeners thrilled with the improved sound crystal clear quality of HD.
As I write this KJLT is also in the process of purchasing a translator in McCook as well as the construction permit to build a 500 watt radio station there. Eventually we hope to have much better coverage of our 94.9 FM and 89.3 FM in McCook as a result.
Ministry depends on prayerful support as well as financial giving to maintain and allow for future growth. Thank you so much for your support of KJLT/KJTF!
Blessings!
Gary Hofer
General Manager
---
On August 22, 2022, The Praise Network, Inc, licensee of K237DV, 95.3 FM, McCook, Nebraska, and permittee of a construction permit for a new FM station bearing Facility ID number 767455, on 91.1 FM, McCook, Nebraska, filed applications with the Federal Communications Commission for consent to assign the stations to Tri-State Broadcasting Association, Inc. Members of the public wishing to view this application or obtain information about how to file comments and petitions can visit www.fcc.gov/stationsearch and search in the list of filed applications for these stations.
---