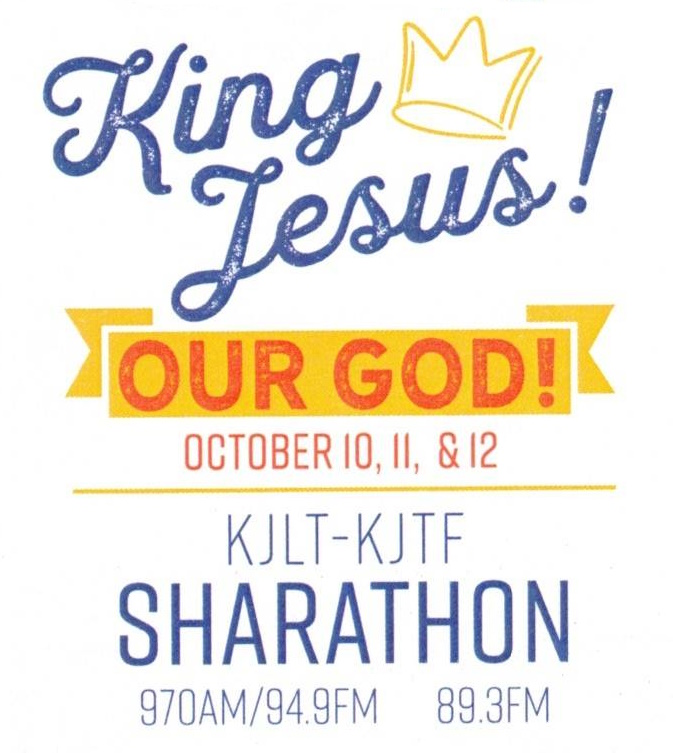 King Jesus! Our God! That is the theme of the KJLT/KJTF/KJYS Sharathon October 10th, 11th, & 12th. Psalm 68:20 says "Our God is a God who saves; he is the Lord, our Lord who rescues us from death.
God continues to open doors for this ministry! For almost a year now, KJLT FM has been broadcasting HD or crystal clear CD quality radio to those with HD receivers. It has also made it possible to include KJTF and soon to come KJLT 970 AM as part of the 94.9 FM channel. You may remember I shared about purchasing a translator in McCook and also a construction permit to build a 500 watt radio station in McCook. This will provide better coverage of both KJLT FM and KJTF in that area. All of this has taken your much needed support!
Our annual Sharathon is an exciting time as the needed funds are raised to sustain this ministry for another year. Prayer, financial support, and volunteers are very important!
The foundation of prayer is key. I want to encourage you to pray for this special event. KJLT will observe 30 days of prayer prior to the Sharathon. Each day a specific prayer request will be shared on the air, and posted on Facebook. You may want to have the daily prayer request sent to you by email. Just mention the 30 days of prayer by email to kjlt@kjlt.org. Your support in this way will be greatly appreciated.
Financial support is essential! Our Sharathon goal this year is $355,875. Day Sponsors are $975 or $81.25 a month. Day Sponsors are often done in honor of birthdays, anniversaries, or other special occasions. Your special day can also be included on our Day Sponsor calendar which has become very popular. I would encourage you to reserve your special day soon and avoid your requested date already filled. Day Sponsors may choose if desired a T-Shirt with this year's Sharathon theme and, a KJLT/KJTF Cap.
Many have joined the KJLT/KJTF Dollar a Day Club. A $365 commitment is another way of impacting lives. Here are some listener comments.
… from North Platte. I can't begin to tell you how much I enjoy KJLT. I listen from morning through the rest of the day.
… from Oshkosh, Ne. We listen to KJLT almost every day. My husband especially likes the Bible teaching.
… from an online listener. I am so thankful to be able to listen to you all from Missouri!
… from Wallace, Ne. Thank you for all you do for North Platte, and the surrounding community. We are truly blessed by your ministry.
Volunteers play an important part. Telephone operators are needed for the Sharathon. Some of them come for an hour or two, some longer. If you would like to help as a phone operator let me know. The hours are very flexible.
You may choose to make a one time gift or a monthly gift. Every gift is very important. Everybody doing something will make a difference in reaching the goal. You may also call our toll free Sharathon number 1-800-532-1659 or donate on line by clicking here. Be sure to include the occasion if you sponsor a day. Notice on the Faith Promise form that you may choose a T-Shirt AND a Cap if desired. You may choose a T-Shirt OR Cap for your Dollar a Day ($365) or more. There are token gifts and product from our many fine programs for your gift of any amount. Just call to see what is available.
Sharathon is a family reunion time and open house. You are most welcome to stop by our studios at B and Bailey in North Platte. There is plenty of food and refreshments to enjoy during the Sharathon. The staff and I would be encouraged by your visit! Some listeners enjoy sharing on the air how KJLT/KJTF has impacted their lives. It is also fun to put children on the air. Bring them by before or after school and they can see how Christian radio comes from our studios to your radio! Plus we have giveaways for both children and adults.
Blessings!
Gary Hofer
General Manager
---